Adminstrator
Adminstrator
Joined

Oct 13, 2017
Messages

821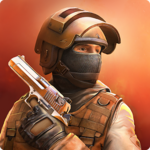 Game:
Standoff 2
Version:
0.10.11_2
Platform:
Android
Features:
Smooth Aimbot

(smoothness is adjustable)

Visibility checks
Choose to aim at closest target in distance

(by default it will aim at closest target in view angle)

ESP

(Bounding boxes, health bars, distance, 2D Radar.)
Requirements:
-Android Lollipop and above (5.0+)
Install steps:
Currently the game is on patch 4 update so whether you wait for an update for the hack or you can manually install the obb for version 0.10.11 patch 2.
You can find obb for patch 2 here https://m.apkpure.com/standoff-2/com.axlebolt.standoff2/download/87-XAPK?from=variants/version
You'll need to zip the xapk and extract obb from it.

Install and run modded apk. If you get a black screen or stuck whatever then you did it incorrectly.
Credits:
Ruit - AutoSkillz.net
Download apk:
[ Click Here ]
.
NOTE:
-You must be registered in our forum to be able to login and run the hack.
-The aimbot does not block user input so its possible to swap into another target in your view as long as target closest in distance is disabled.
Google login only works if you're rooted and know how to save /restore backup. Facebook login will work ( you need to disable Facebook app).
Screenshots:

Last edited by a moderator: